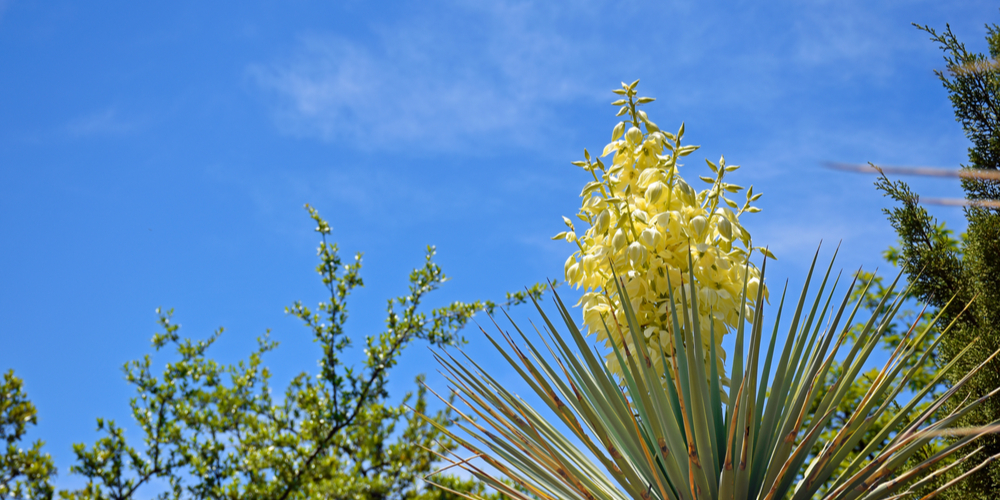 One of the more common sights across lower elevations in New Mexico are various species of yucca. One of these, Soaptree Yucca (Yuca elata) is one of the more widespread species. Yucca are members of the Family Agavaceae. Yucca (pronounced "yuh-ka") are hardy plants that thrive under trying conditions.
Soaptree Yucca can grow up to 30 feet, rarely to 35, in height with roots stretching for a hundred feet or more in search of water. This is easily seen in areas where there are moving sand dunes such as at White Sands National Monument near Alamogordo. Flowers are a creamy white and borne on a long slender stalk. Some individuals grow low while others form a tall stalk topped with broad, sharp-edged leaves.
It occurs in sandy soils, gypsum area, rocky areas, grasslands and similar areas from the lowest elevations up to 6,000 feet. The flowers can be eaten and are fed on by cattle during times of drought. Settlers would crush the roots and stems for a soap substitute. Leaf fibers were once used to make rope and twine.
After a survey of students was conducted they chose yucca as the State Flower. The New Mexico Federation of Women's Clubs supported their choice and the New Mexico State Legislature adopted the yucca as the official State Flower on March 14, 1927.