Voting & Elections
Information on Voting and Elections in the State of New Mexico.
Candidates & Campaigns
Information on how to become a candidate and  about complying with campaign finance disclosure and reporting requirements.
Legislation, Lobbying & Legal Resources
Learn about Lobbying in our state. Find Legislative information to include Signed & Chaptered Bills and Legal Resources.
Business Services
Start a business, maintain a business or get general information on registered businesses in New Mexico.
Notary & Apostille
Become a notary, renew your notary commission, or obtain information about apostilles or certification of official documents.
Commercial Services
File UCC's, AG Liens, register a trademark or other commercial filings.
Safe at Home
New Mexico's statewide address confidentiality program administered by the Secretary of State to assist victims of domestic violence, sexual assault, stalking or similar types of crimes to receive mail using the Secretary of State's address as a substitute for their own.
Cybersecurity
Learn about how we protect your voter and business information. You might also find a tip or two that will help you secure your information as well.
About New Mexico
Learn  about New Mexico Government, History, State Symbols,  State Songs and other important information about our state.
Unofficial Election Results
Results will become available after 7 PM on Election Day, November 2, 2021 and will be posted as they are received from the county offices.
Election Day Voter Hotline
Toll Free: 1-800-477-3632
Santa Fe: 505-827-3600 Option 2
The Election Day Voter Hotline is available on Election Day, November 2,  from 7:00 AM to 7:00 PM to assist voters with questions or concerns.
Voter Resources
Online voter resources include:
NEW!!! 2021 Redistricting NM Senate Maps are Now Available below!
Map Disclaimer:
These maps are maintained by the Secretary of State based upon the district information provided by local governments.  An error or omission is possible, particularly as redistricting efforts are ongoing.  If you think there is an error in the information provided on the maps, please contact Elections@sos.nm.gov and the Secretary of State will coordinate with the proper authority in order to issue a corrected map.
The maps are optimized for printing at a standard map size of 36" x 48" to see the best detail.
If viewing the map electronically using Adobe Acrobat Reader (free to download), the file is setup so that the viewer may turn the layers and map components on and off using the option under the layers icon as shown in this print screen: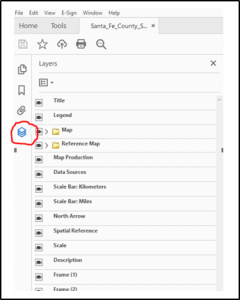 PLEASE NOTE:
Reduced Size Maps are maps that are flat and don't contain layers and map components. These maps download faster than optimized maps.
Layered  Maps are maps that contain layers and map components. These maps are larger files and may take longer to download.
New Mexico Senate District Maps

Upcoming Statewide Elections
2024 Primary Election: Tuesday, June 4, 2024 
2024 General Election:  Tuesday, November 5, 2024