Voting & Elections
Information on Voting and Elections in the State of New Mexico.
Candidates & Campaigns
Information on how to become a candidate and  about complying with campaign finance disclosure and reporting requirements.
Legislation, Lobbying & Legal Resources
Learn about Lobbying in our state. Find Legislative information to include Signed & Chaptered Bills and Legal Resources.
Business Services
Start a business, maintain a business or get general information on registered businesses in New Mexico.
Notary & Apostille
Become a notary, renew your notary commission, or obtain information about apostilles or certification of official documents.
Commercial Services
File UCC's, AG Liens, register a trademark or other commercial filings.
Safe at Home
New Mexico's statewide address confidentiality program administered by the Secretary of State to assist victims of domestic violence, sexual assault, stalking or similar types of crimes to receive mail using the Secretary of State's address as a substitute for their own.
Cybersecurity
Learn about how we protect your voter and business information. You might also find a tip or two that will help you secure your information as well.
About New Mexico
Learn  about New Mexico Government, History, State Symbols,  State Songs and other important information about our state.
Unofficial Election Results
Results will become available after 7 PM on Election Day, November 2, 2021 and will be posted as they are received from the county offices.
Election Day Voter Hotline
Toll Free: 1-800-477-3632
Santa Fe: 505-827-3600 Option 2
The Election Day Voter Hotline is available on Election Day, November 2,  from 7:00 AM to 7:00 PM to assist voters with questions or concerns.
Voter Resources
Online voter resources include:
NM's First Secretary of State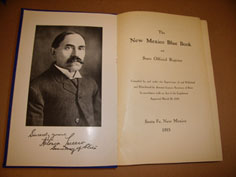 Antonio J. Lucero
New Mexico's first Secretary of State
Antonio J. Lucero – 10/06/1863 – 06/06/1921 – was New Mexico's first Secretary of State, from 1912 when New Mexico became a state, to 1916. Secretary Lucero was born thirty-five miles southwest of Las Vegas, New Mexico, near the Pecos River. His family later moved to Las Vegas, New Mexico, where Antonio earned his education.
Before becoming New Mexico's first Secretary of State, he worked as clerk in a dry goods store from 1884-1888. Antonio later became the editor of a Spanish-language publication called, La Voz del Pueblo. Subsequently, he became a Spanish-language professor at East Las Vegas High School and the New Mexico Normal University (which became Highlands University in 1941).
In 1893, Antonio married Julianita Romero. Seven children were born to the couple: Aurora R.; Antonio Jr.; Delia M.; Julia; Edmundo N.; Elenor; and Arturo Francis Paul. Antonio's daughter Aurora became a well-known author.
A leader in the Democratic Party, Antonio was elected to the New Mexico House of Representatives in 1903. In 1912 he was elected New Mexico Secretary of State; and in 1916 he was re-elected to a second term.
Upon completion of his second term, Antonio returned to his hometown of Las Vegas, New Mexico, returned to teaching, and became President of La Voz del Pueblo. Antonio also served as the first prohibition director in New Mexico. In 1920, he ran an unsuccessful campaign for United States Congress. On June 6, 1921, Antonio passed away at his home.
*Special thanks to New Mexico State Historian Dr. Estevan Rael-Galvez for assisting our office with this important historical information.