Voting & Elections
Information on Voting and Elections in the State of New Mexico.
Candidates & Campaigns
Information on how to become a candidate and  about complying with campaign finance disclosure and reporting requirements.
Legislation, Lobbying & Legal Resources
Learn about Lobbying in our state. Find Legislative information to include Signed & Chaptered Bills and Legal Resources.
Business Services
Start a business, maintain a business or get general information on registered businesses in New Mexico.
Notary & Apostille
Become a notary, renew your notary commission, or obtain information about apostilles or certification of official documents.
Commercial Services
File UCC's, AG Liens, register a trademark or other commercial filings.
Safe at Home
New Mexico's statewide address confidentiality program administered by the Secretary of State to assist victims of domestic violence, sexual assault, stalking or similar types of crimes to receive mail using the Secretary of State's address as a substitute for their own.
Cybersecurity
Learn about how we protect your voter and business information. You might also find a tip or two that will help you secure your information as well.
About New Mexico
Learn  about New Mexico Government, History, State Symbols,  State Songs and other important information about our state.
Unofficial Election Results
Results will become available after 7 PM on Election Day, November 2, 2021 and will be posted as they are received from the county offices.
Election Day Voter Hotline
Toll Free: 1-800-477-3632
Santa Fe: 505-827-3600 Option 2
The Election Day Voter Hotline is available on Election Day, November 2,  from 7:00 AM to 7:00 PM to assist voters with questions or concerns.
Voter Resources
Online voter resources include:
During the 2021 legislative session, SB304 was passed directing the Secretary of State to maintain a data clearinghouse of all GIS shape files for voting districts at the local, county, state and federal level.
The University of New Mexico Earth Data Analysis Center provided data collection and data processing support required to build the voting district data clearinghouse.
Users may download the data available from the voting district data clearinghouse for free.
Click below to access the state of New Mexico's Resource Geographic Information System (RGIS) Clearinghouse.  Once in the clearinghouse, all available voting districts are located under the heading 'SOS Voting Districts.'
---
New! A web based interactive tool that citizens may use to open, view, and print custom voting district maps.
This interactive web map was created to facilitate the viewing of political subdivision data, and to provide a tool for creating PDF maps of desired areas, at varying scales, and including data selected by the user.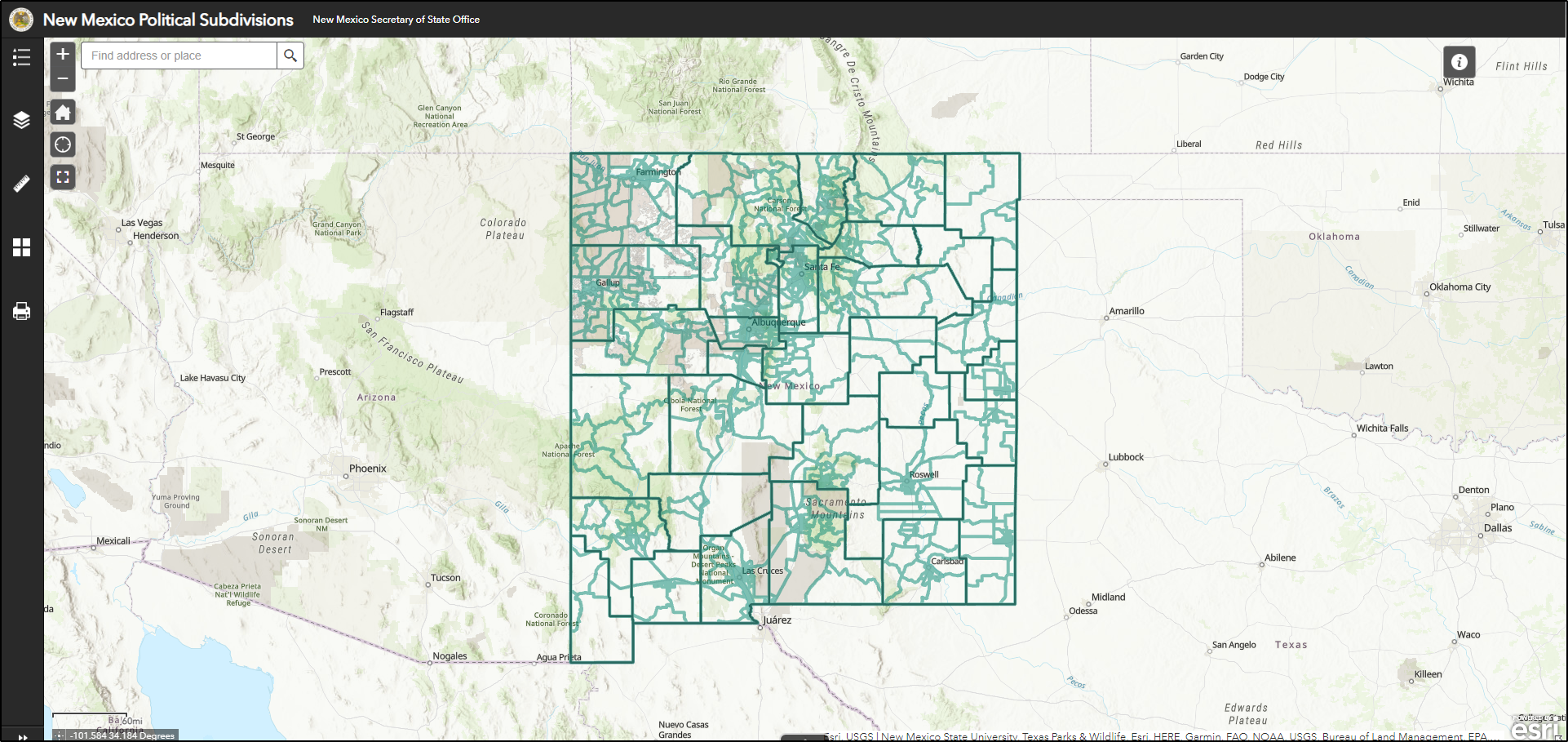 Upcoming Statewide Elections
2024 Primary Election: Tuesday, June 4, 2024 
2024 General Election:  Tuesday, November 5, 2024